With its location in North Moons Moat, Redditch, The Hair Factory strives to meet each client's request and go beyond their expectations. With over 18 years experience in the hair industry, owner and master stylist Maria's professional craft of cutting, shaping, and styling hair has placed The Hair Factory as one of the best hairdressers in Redditch.
They specialities include precision-cutting, dimensional colour and highlights. Most importantly, The Hair Factory uses paraben free and sulphate free products with added Aloe Vera and low ammonia colours. Regardless of your hair type—curly, thick, fine or straight— The Hair Factory has the creative talent and exceptional skills to help you look and feel amazing.
The salon itself provides a contemporary yet warm feel, with light - coloured walls and soft furnishings. Several separate rooms lead off the main entrance to the styling and treatment suites, eliminating the crowded, chaotic feeling so common in larger salons. A pitched roof floods the salon with natural light and creates a sense of space. The main salon occupies the first floor and also offers three treatment rooms.
The beauty department offers facials, waxing, lash tinting and precision eyebrow shaping, manicures, pedicures and massages are available along with spray tanning.
We also have a physiotherapist and acupuncturist working onsite who boast an excellent client recovery record and work very closely with local consultants, GP's and other medical service providers. Join us at The Hair Factory or the ultimate hair, beauty and health experience. It has never been so easy to look and feel great!
Services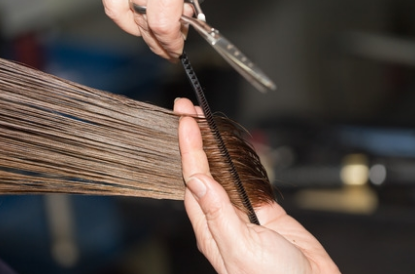 Whether you are looking to preserve a signature look or create a new one – we work with you to create the perfect cut. All cuts include a personalised pre-cut consultation upon arrival as well as customised shampoo and conditioning treatment. The Hair Factory is your family friendly Redditch hair salon and offers haircuts for all ages and styles.
Smoothing Hair Treatments in Redditch, Worcestershire.
For people with curly, wavy or straight hair – our smoothing treatments relax and improve the overall health of your hair. Our hair smoothing treatments are keratin enriched to straighten and smooth out your hair for eight weeks. This indulgent formula will strengthen and smooth out your hair's cuticles. Make hair more manageable, control frizz and have sleeker hair – even in humid weather.
At The Hair Factory we offer a bespoke and professional hair colour to suit you and your lifestyle. Hair colouring should not just be about covering any "grey"hair, but should be a service to compliment your style and skin tone.
Colour has come a long way over the years and with new colouring techniques it can be complicated to ask for what you wish. Below you will find a little more information to help you understand the jargon that's often used today.
We want you to feel fabulous not only when you leave our salon but everyday when you come to wash and style your hair in your own home.
Reviews and Ratings
I've been going to Petals and Potions for over a year now and Michelle is lovely and always makes you feel very welcome. I've had massages, facials, foot rituals and the latest new addition Lime and Walnut wrap. Each time I leave completely relaxed and loving the treatment. Michelle's gel nails last me weeks and are not overpriced like many local salons. I definitely recommend this salon, give it a go you will not be disappointed!!
Michelle is brilliant! Every time I have gel nails she comes up with the most glittery, sparkly, tremendous ideas! Today we came up with my own signature colour by mixing two polishes together. Michelle really takes the time with her clients and she really cares! Thank you!
Just had my wonderful free Rose Gold facial from Michelle. My Daughter Vicky Khawaja nominated me in a Mother's Day competition and won. It was a lovely surprise and the facial was excellent. Would definitely recommend it. I have had manicures with Michelle previously and have always been delighted with my nails. Thank you very much Michelle and Vic. Lots of Good Luck Michelle with Trekking the Great Wall China 23rd April to 4th May in aid of Multiple Sclerosis.